Your Impact: Candace Cameron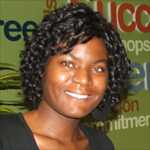 I graduated high school in 2004, and shortly afterward I had my daughter. I was unemployed, in debt and limited in my financial resources. I was really down and out, and trying to find my way so that I could be secure.
I've always been strong and open-minded to everything. This past year, I looked to other resources, and my mom recommended me to go to a credit counselor. He told me I should head out to the grand opening of Goodwill Industries® of the Southern Rivers' Goodwill Success Center.
When I heard of Goodwill, I thought of clothes — not of financial help. I found out that you can get financial services, and my taxes can be done for free. Goodwill has helped me to clear some debt and start saving.
I met a great support team that cares about me. The team encouraged me to get my CNA license, and now I will work through a temporary agency called Westaff, which I love. I am able to save money, and I'm now more at peace.
I'm happy I found the Goodwill Success Center, and I love the classes that I'm taking. I will graduate in February 2011, and I will start taking classes at the Georgia Military College in March 2011 for business administration. You can never stop learning in any situation – it's up to you if you can be happy and live your life as a better person.
Is yours geared for good?
Donate today!